Join us at our Annual Gala celebrating 55 years of service to Marin County!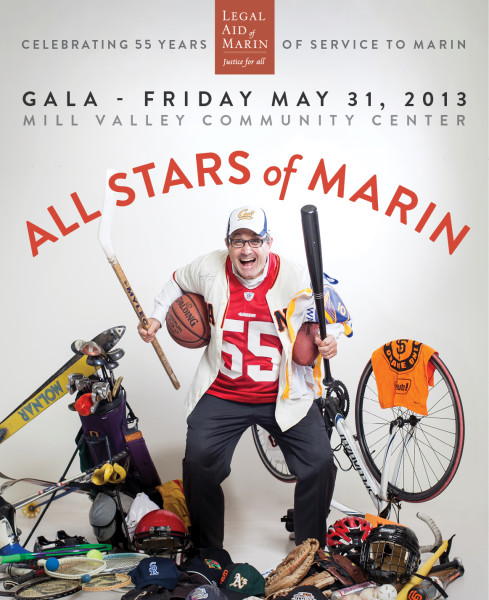 Legal Aid of Marin is celebrating teamwork and excellence this year. Sponsors, volunteers, collaborators and a great staff are the starting point for Legal Aid of Marin's vision of a level playing and a passion to help others. Anyone who supports our work is an All Star of Marin!

Friday, May 31 2013 6:00-10:30pm
Mill Valley Community Center, 180 Camino Alto, Mill Valley, California

Buy Your Tickets Now
Our Sponsors
HERO of JUSTICE

CHAMPIONS of JUSTICE
ADVOCATE of JUSTICE
DEFENDERS of JUSTICE
Bank of Marin
Cynthia Abesa & Sean Hogle
PG&E
Shartsis Fries
FRIENDS of JUSTICE
Chavez & Gertler
Renee & Roy Chernus
David Sutton
Mediation & Arbitration
Charles Dresow
Duane Morris
Emison Hullverson
Freitas McCarthy
MacMahon & Keating
JAMS
The Resolution Experts
Philip Levin & Associates
Alexandra Mussallem
Sonoma Bank
Charles & Maryanna Stockholm
Walker Hamilton & Koenig
Warren Law Firm
Warren & Christie Webster
COLLABORATORS of JUSTICE
Robert Erickson
Mechanics Bank
Peter & Ellen
Obstler
Presidio Bank

Program
Honor
Meet the Marin Justice League 2013 Honorees
Fenwick & West LLP
Senior F&W Associate Saundra Riley (pictured at left) and our phenomenal Equal Justice Works Fellow Joanna Shalleck-Klein successfully co-counseled a worker's rights case. Fenwick & West has partnered with LAM for many years through Pro bono work, law clinics and a Summer Justice Bus in West Marin. LAM is grateful for the support of F&W.
Chris Locke
Environmental Attorney and Senior Partner with Farella Braun + Martel
LAM Board Member; Part-time Race Car Driver
When it comes to helping the community, Chris Locke does not know how to say no. Over the past 25 years, he has shown this time and again through his remarkable wisdom as both a volunteer attorney and as a LAM Board Member (and past Board President). LAM would not be what it is today without Chris Locke.
Rocio "Cio" Hernandez, MFT
Licensed Mental Health Practioner
With her infectious personanlity and committment to social justice, Cio Hernandez has become one of LAM's strongest allies. Whether through her work in the Bi-National Health Week, client referrals or contributions to Medical Legal Partnership programs, Cio improves Marin every step of the way.
Vinh Luu
Project Director for Asian Advocacy Project
Time and again, LAM has been the beneficiary of Vinh Luu's groundbreaking work in leveling the playing field for Marin's Asian Community. His efforts in ensuring that the County provide information in multiple languages directly led to improved legal services for the Asian community. Vinh is a leader and a true visionary.
Savor
Major League Supper Plates by Stacy Scott Catering
Toast
Jump Shot Cocktails at the Home Bench Bar
Play
High Card Walk-off to win Sports Prizes
Dance
Victory Dancing in the End Zone with the Soul Satellites Band Featuring Bonnie Hayes
Shop
Score Wine + Sports Memorablia at the Silent Auction
Dress
Dress as your favorite athlete. Business or cocktail attire acceptable.
Party for a Cause!
For more information, please contact Jan Baldwin at
or call (415) 492-0230 x309

Become a Sponsor Volunteer for the Gala
Return to News