An initiative by Legal Aid of Marin, the Marin Superior Court and the St. Vincent de Paul Society is helping homeless people have a positive experience with the law.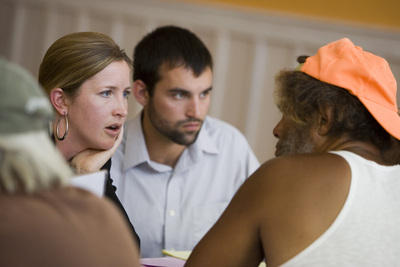 The verdict is in.
Marin County's first ever Community Court for residents facing homelessness or poverty —a project co-founded by Legal Aid of Marin Staff Attorney Maura Prendiville—has quickly grown from a good idea to a great community asset. Since launching as a pilot project in the spring of 2011, the Marin Community Court has helped nearly a 1000 of down-on-their-luck defendants clear up  citations and violations and "get back on their feet," as a front page headline in the Marin Independent Journal put it.
In a separate editorial, the IJ lauded the court as "an impressive program" and "terrific collaboration," that is a "creative approach to tackling homelessness."
Prendiville has worked with co-founding partners at the Marin Superior Court and St. Vincent de Paul Society to transition the project from the pilot to permanent stage. "We're seeing clients turn their lives around and have a positive courtroom experience," says Prendiville. The individual success stories of  Marin Community Court clients have also been featured on KCBS news radio.
The project has also received recognition in both the Harvard and New York University law school websites. The Marin Community Court won the Heart of Marin Award in 2013.
This primarily volunteer effort will be celebrating its third year of service on April 8, 2014.  The Marin Community Court needs support to keep the process alive for the next 1,000 participants. The court sessions are possible because a lot of screening and activity happens behind the scenes before and after each session of the Marin Community Court.  We need your help in supporting this work.  It takes about 30 staff hours per week to maintain the program at its current level and Legal Aid of Marin needs to provide administrative staff time dedicated to this program.  We want to keep this program going into the future which will only be possible with your support. Your donations will help keep the Marin Community Court a viable and permanent part of our community.  Help show that #MarinCares.
Thank you!
Volver a Noticias