The Annual Pro Bono Awards Luncheon honors our community's outstanding pro bono legal providers of the past year.  This year, we celebrate our many attorneys and community volunteers.  Seven are recipients of the Wiley W. Manuel Award, issued by the State Bar of California for 50 or more hours of pro bono services.
Honoring Marin County Superior Court  *Judge Paul M. Haakenson*
Award presentations by: Jonathan Gertler
Founding partner, Chavez & Gertler, LLP and President, Board of Directors, Legal Aid of Marin.
Speakers include:
Hon. Beverly K. Wood, Presiding Judge Marin County Superior Court
Charles Dresow, Ragghianti Freitas, LLP and President, Marin County Bar Association
Legal Aid of Marin has been serving the community for 60 years. What started as a group of Marin County Bar Association volunteers now has a staff of eight serving over 2,000 households each year.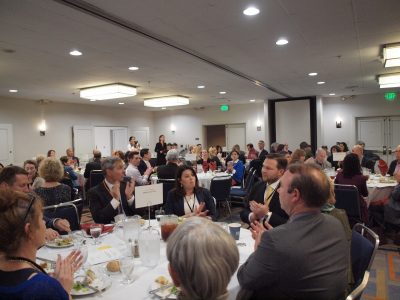 Photo: Pro Bono Luncheon 2018
Registration: Click Here
Registration Ends March 25, 2019
Marin County Bar Assosciation
Volver a Noticias