Megan Hansen reports on LAM's success with Marin Community Court in the Marin Independent Journal.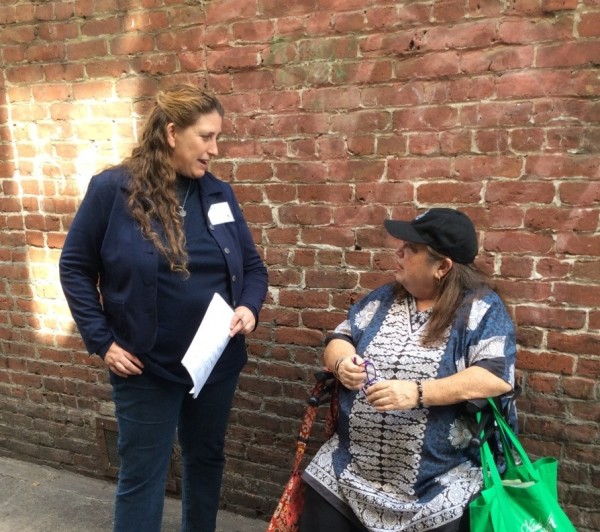 It's been three years since Marin Community Court started helping homeless and financially strapped residents deal with their outstanding citations, and the program has grown to include a list of more than a thousand participants.
A collaboration among Legal Aid of Marin, the St. Vincent de Paul Society of Marin County and Marin County Superior Court, the community court set up shop in the St. Vincent de Paul Society free dining room in San Rafael in April 2011, hoping to help about 30 people each month. That number has surged to 50 people a month within the last year, with 80 to 100 people a month asking to participate.
"It's so popular that the demand is higher than what we can actually help with each month," said Legal Aid of Marin attorney Maura Prendiville, who helped found the program.
The court, held on the second Tuesday of each month, is presided over by Judge Beverly Wood, who hears noncriminal cases ranging from unpaid vehicle registrations to tickets for sleeping or urinating outside. In exchange for voiding unpaid fines and tickets, Wood gives sentences such as community service hours or attending parenting classes.
"We do it by having them give back to the community or doing something that's tailored to them to help improve their situation," Wood said.
Prendiville said the experience is less intimidating than going to a courtroom, and the sentences are meant to help, not harm, participants.
"They may be required to go meet with a caseworker at a social services agency or they may do a job hunting log," Prendiville said.
When Marin resident Terry Cates received a traffic ticket in December, he had no idea he'd eventually end up attending Marin Community Court — twice. His $300 ticket grew to $600 when he forgot to pay it off, and he couldn't afford the bill.
"In the meantime, I lost my job and my home," Cates said. "Everything went to hell."
Though still homeless, Cates is doing what he can to get back on his feet. On Tuesday he asked Wood, who agreed, to extend his deadline for completing 10 hours of community service as he's also taking multiple classes through the county's Children and Family Services department in an effort to see his children more.
"I didn't finish all of my hours," Cates said. "She's very reasonable."
Wood was also able Tuesday to resolve a legal matter for Mary Elizabeth Davis of Marin City that has her on track to obtain a driver's license again.
When Davis was stopped recently by the sheriff's department for having an expired registration and not having proof of insurance on hand, she received a $350 ticket. Before she was able to pay the ticket, she traveled to Hawaii to help her daughter through a difficult pregnancy.
When she came back, the ticket had been submitted to a collection's agency and had increased to $1,600.
"I'm a single mom and grandmother on disability," Davis said. "I live on a very tight budget."
Unable to pay the fine, Davis made a deal with Wood to complete 20 hours of community service and obtain car insurance. Even though she's done with her sentence, Davis said she plans to continue her community service work.
"It makes so much more sense to do community service hours because I know there's a lot of other people like me who can't afford the tickets," Davis said. "When I do get my license back, it'll be golden."
Before starting the community court, Prendiville said she was already holding office hours at St. Vincent's twice a month to help clients with legal issues. She got the idea to start the program after contacting officials in Humboldt County, where there is a homeless court, to help a client resolve a ticket for sleeping outside. With the help of Cris Jones, a volunteer director at St. Vincent's, and Wood, the program took flight.
Paul Cohen, executive director of Legal Aid of Marin, said the court program has been a labor of love, involving volunteer attorneys, a volunteer court clerk and a volunteer bailiff. He said last year was the first year the program received stable funding from the Peter E. Haas Jr. Family Fund, which gives grants in support of the mission of the Marin Community Foundation.
Cohen said funds that were traditionally given to Legal Aid of Marin were redirected specifically to the court. Though the court has a part-time worker overseeing the program, Cohen said they'd like to be able to make that a full-time position.
In addition to applying for grants, Cohen has dabbled in online crowd-funding campaigns to support the program. A monthlong campaign asking people to support the court ends Sunday, but an anonymous donor has pledged to match all donations made to the court through Legal Aid of Marin through June. As of Tuesday evening, the site had raised $3,280 of its $15,000 goal.
"I learned about crowd-funding from my daughter's boyfriend," Cohen said. "I tried it for an affordable housing campaign, but this one has been more successful."
Though the court is currently at capacity and can't handle much more expansion, Wood said she hopes the program will be adopted in other communities.
"I'd love to see this expanded to other counties in the state," Wood said.
Contact Megan Hansen via email at mhansen@marinij.com or via Twitter at http://twitter.com/hansenmegan. Follow her blog at http://blogs.marinij.com/bureaucratsandbaking.
How to help
To donate to the Marin Community Court program's online campaign, visit www.indiegogo.com/projects/marin-cares through Sunday. Donations made to the program through June will be matched by an anonymous donor.
Donations can also be made to the program through Legal Aid of Marin, 30 North San Pedro Road, Suite 220, San Rafael, CA 94903.
Volver a Noticias